Race report: Orange Running Festival half-marathon
A report on my run in the Orange Running Festival half-marathon race, held in Orange in the central west of NSW.
| | |
| --- | --- |
| Event | Orange Running Festival |
| Location | Orange, NSW, Australia |
| Distance | Half-marathon (21.1 km) |
| Date | Sunday, March 5, 2023 |
| Weather | 12–18°, sunny |
| Start | 7:30am |
| Goal time | 1:37:30 |
| Race time | 1:38:41 |
| Goal achieved | No |
| Finish position | 53 / 345 |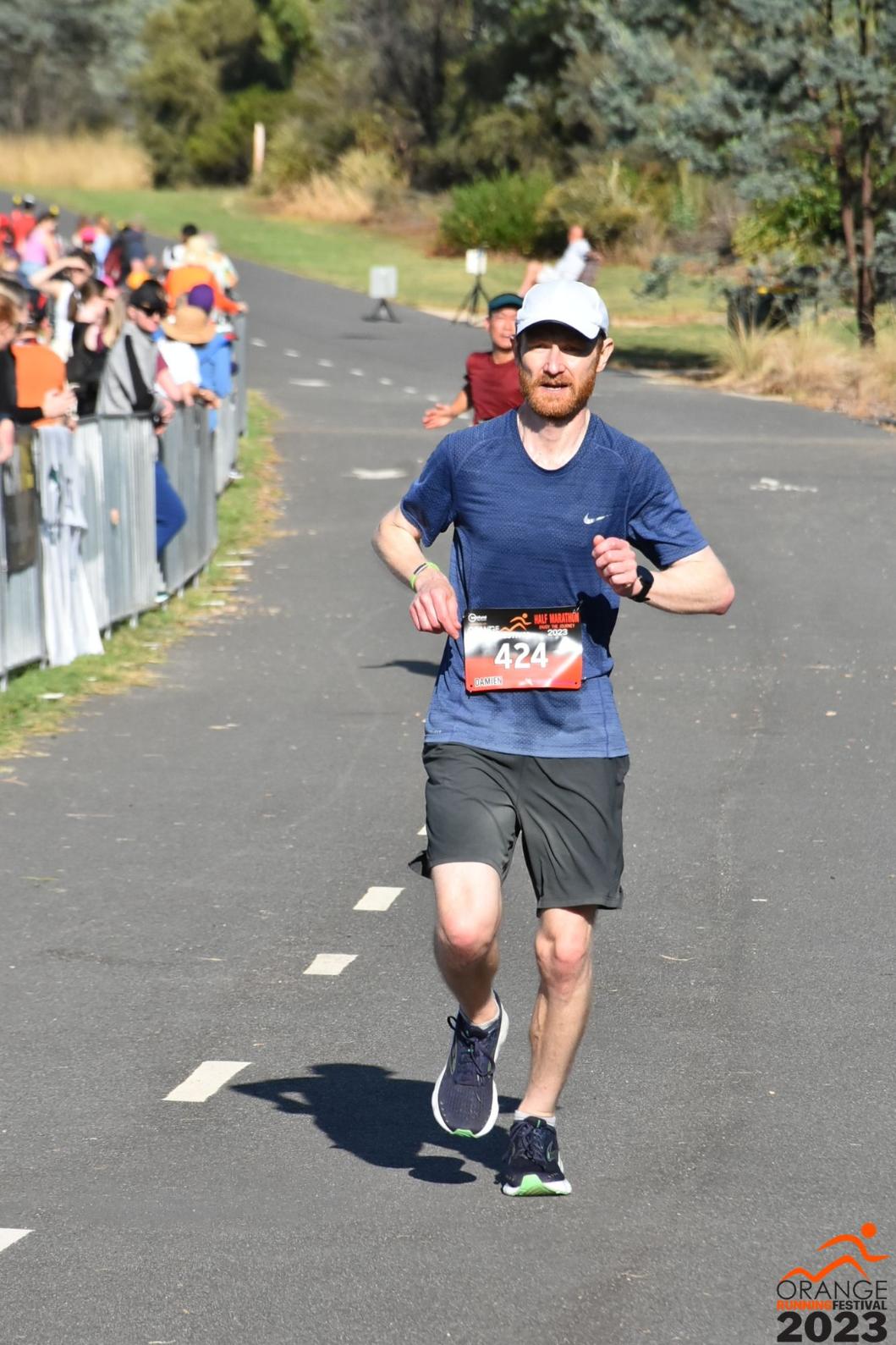 Lead-up
I was keen to run in a half-marathon race in the first half of 2023 and was contemplating either the Orange Running Festival or the Port Macquarie Running Festival, which were both being held on the same weekend. Based primarily on geographical proximity to Bathurst, I chose Orange. With my moving away from Bathurst (to Melbourne) a few weeks after the race, it ended up being a nice farewell to the central-west region of NSW.
I had enjoyed the training in the first few months of the year. I was regularly running five days a week, with total distances of around 50–70 km a week. The body was feeling good, with no injuries or issues of concern.
A couple of weeks before the half-marathon, I ran in the general-public 10 km event at the World Athletics Cross-Country Championships, which was (amazingly) held in Bathurst. That run didn't go so well, but that performance was a bit hard to interpret—I was at or near the peak of half-marathon training, it was a hot day (the start time had been brought forward to avoid the worst of the heat), and it was a tough course with hills, mud, sand, and obstacles.
Despite (or perhaps because of) the toughness of the course, I really enjoyed running it! I would like to do more cross-country in the future—I like the variation in terrain and surroundings.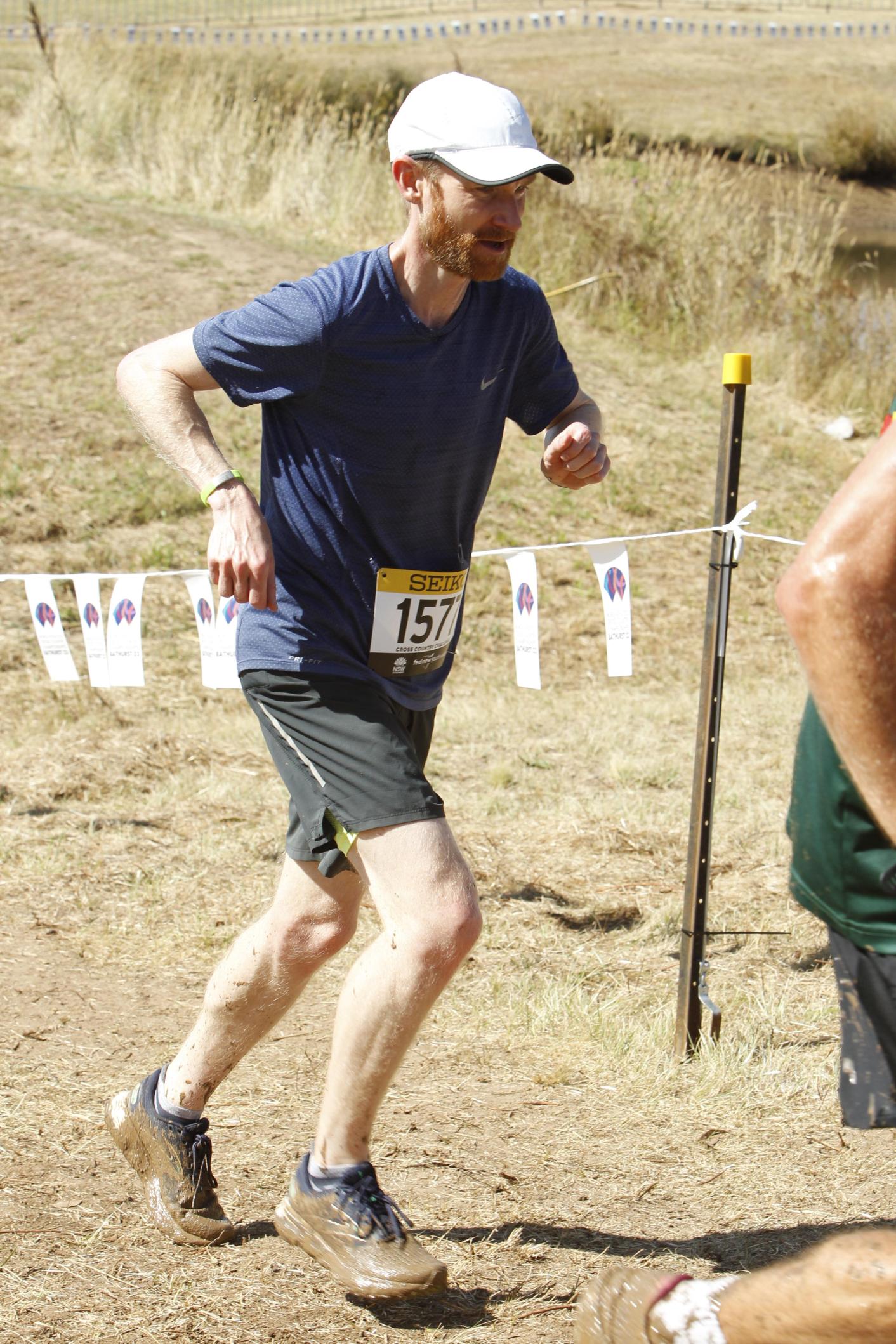 It was surreal having such a world-class event being held in Bathurst—rather than my Thursday morning laps of a local nondescript cricket oval being just me and the occasional walker, as it is usually, I was instead able to share the oval with the Kenyan athletics team! It also made for a very well-attended parkrun that weekend, with its 511 finishers being about 2.5 times the average.
However, I was able to have a good run in the Bathurst parkrun (5 km) the weekend prior to the race. I finished in 20:39, which was a personal best by about 30 seconds and the first time I had gone under 21 minutes. That gave me a bit of confidence leading into the pre-race week of running.
That confidence didn't last long though, with a couple of poor mid-week runs making me a bit anxious about the race. I did a bit of reading and found that this is pretty common with the reduction in volume in the lead up to a race, which made me feel a bit better. But still anxious.
Pre-race
I drove from Bathurst over to Orange on the morning of the race, which took about 45 minutes. I arrived in plenty of time before the start, which allowed me to pick up my bib and get warmed up in what was an on-the-edge-of-chilly morning (or as Don DeLillo would say, a do-I-need-a-sweater kind of morning). My nutrition plan was to eat raisins and dates as I went around, and I had a handful about 10 minutes before the start. It was a pretty low-key atmosphere and I felt relaxed and ready while waiting in the starting corral.
We set off under clear skies on a beautiful morning with a great temperature for running of about 12°.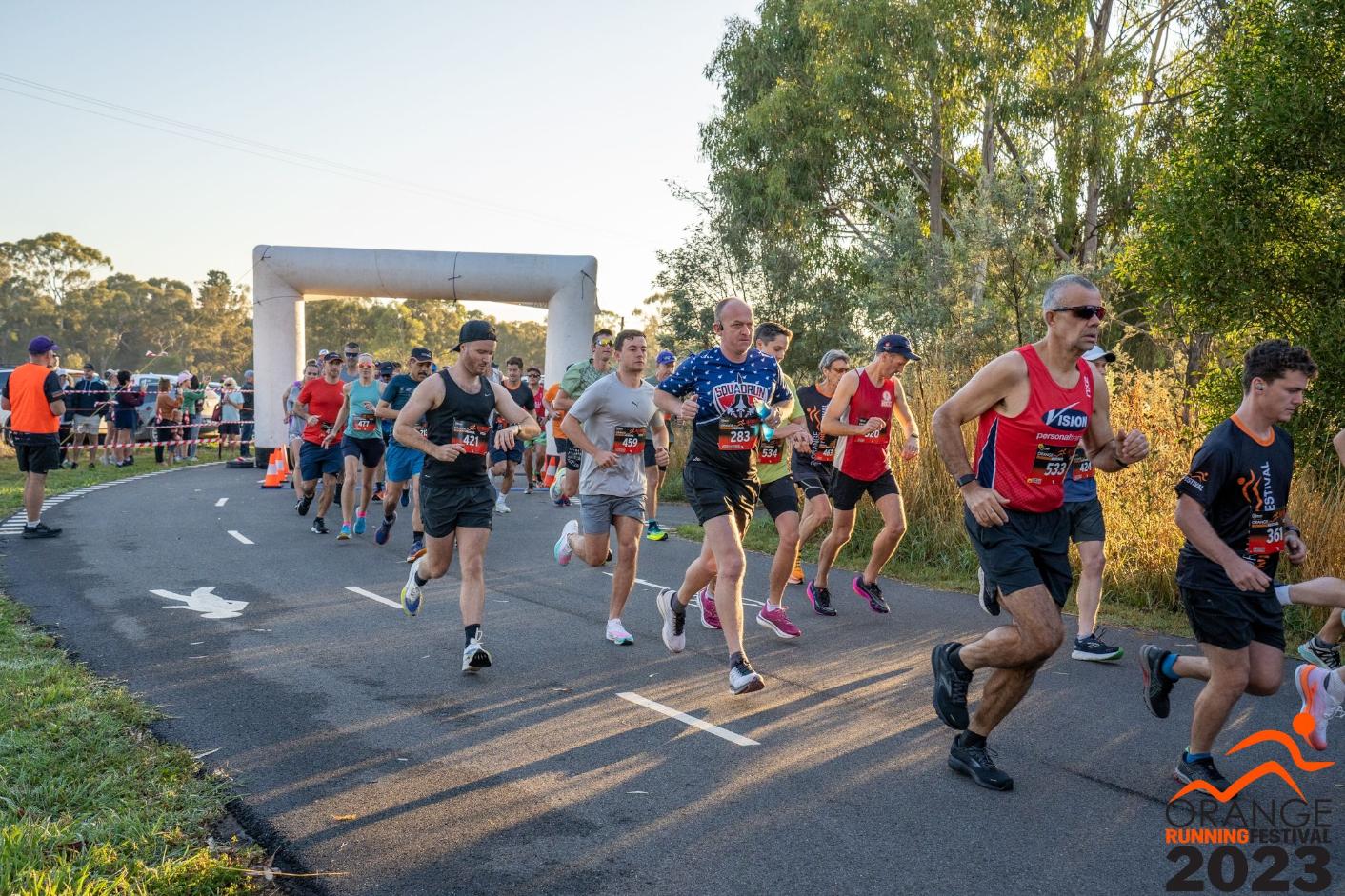 Race
The course followed an out-and-back route that started and finished with short sections along park paths but was mostly on road, as shown in the map below.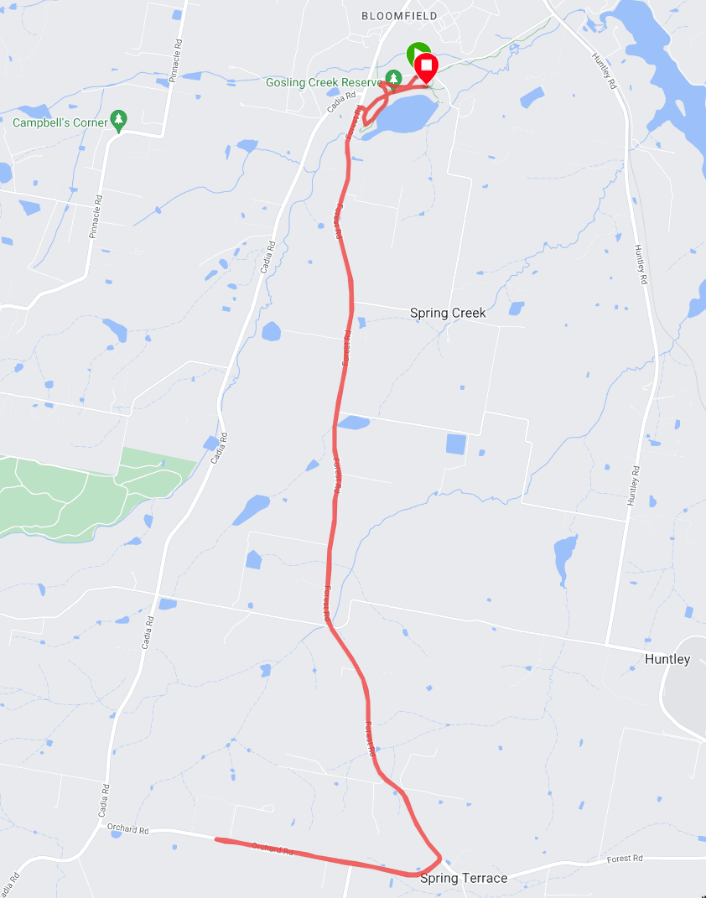 With most of the climbing being done in the first half of the course, my plan was to aim to start relatively easily and gradually pick up the pace over the duration. I encoded this in a Garmin PacePro strategy for a generic half-marathon distance with a 1:37:30 finish time (my goal). Because this generic strategy didn't take into account the course elevation, I intended to use it as a rough guide and was mostly interested in its overall ahead estimate so that I would know how I was travelling with respect to my goal time. However, I soon realised that this wasn't going to work because the display on my watch would only just show --:--. This was pretty frustrating (and has been reported by others) and made it difficult to evaluate how things were going during the race.
I have an overall very positive impression of my running watch (a Garmin Forerunner 245 Music), but there are a couple of annoyances. I wear it constantly and I love the functionality of the watch—the body battery is a very useful feature and one that I monitor and use to alter my behaviour, the 'workout' features are excellent, and it is great that I can store and play my music on it without needing another device. However, some things just plain don't work, such as this PacePro feature. Another feature that I have found to not work (for years) is the Virtual Partner. I have twice reported it to Garmin, who have requested and I have provided my watch data—but then I never hear any more about it.
That annoyance aside, I was pretty happy with how I started. I didn't go out too hard and was able to settle into a reasonable pace and felt good going up the hills. I was a bit concerned about how exposed the road was to the sun—not for the current conditions but for how they would be when coming back towards the finish. I decided to stop at each aid station and dump the cup of water over my head, before I started feeling overheated (a useful bit of advice from my coach after the cross-country championships).
A plot of my pace and the course elevation as a function of distance and time is shown below. The pace dips in the middle of the course are from the brief stops to collect water at the aid stations, as mentioned above.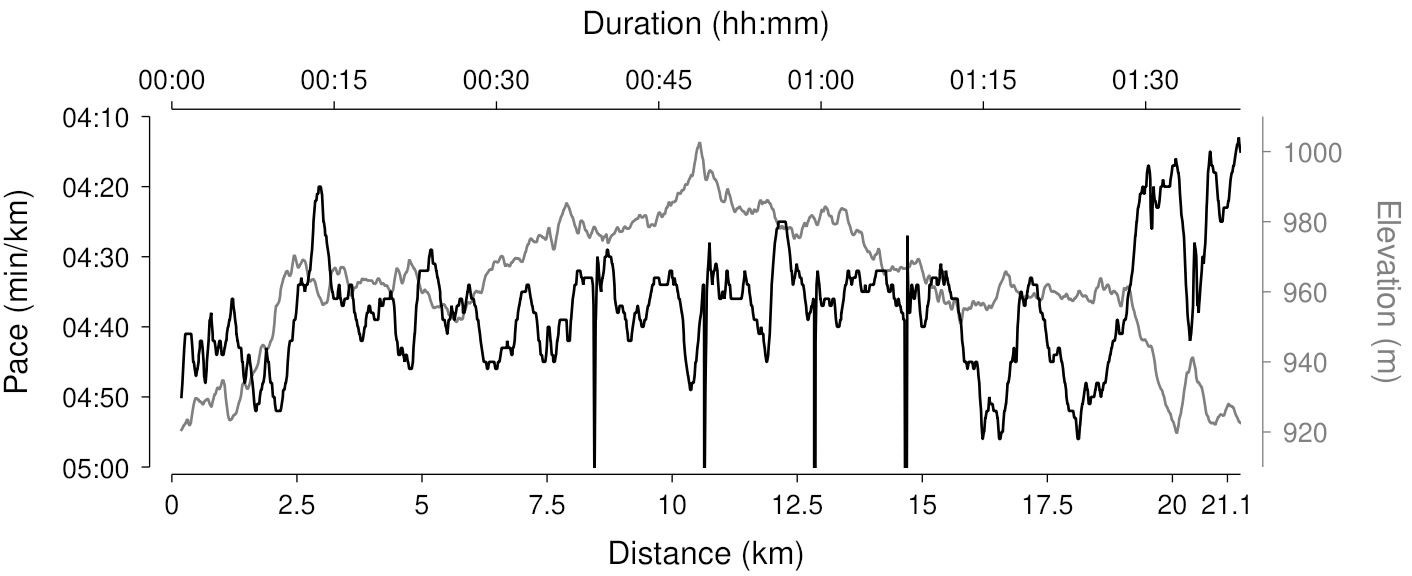 I made it to the turnaround (halfway) point in around 49:30, which is pretty much where I wanted to be (maybe a touch slow) and where I thought I would be well set-up for a strong back half. Unfortunately, it started to become a struggle soon after the turnaround. I could feel my abdominal muscles starting to clench (a sure sign of fatigue or stress for me) and, while I was keeping a consistent pace, I wasn't able to increase my pace in the way that my pacing strategy required. The wind had picked up and we were running into it as we headed back along Forest Road—this kept me cool and mostly mitigated my previous concerns about the heat in the back half, but it did make it hard going.
I reached my nadir from about the 15 km point, where I really struggled with the undulations and my pace dropped considerably. I had in my mind that the back half would be mostly downhill, but perceptually it felt like I was running mostly uphill. I also struggled with the openness of the course at this point, which was similar to the photo shown below. The combination of expansive and uncluttered surroundings and being in a pack of runners going at similar paces produced the very odd impression that I was largely stationary—this made it tough mentally to push through and try and increase the pace. I was also mindful that my goal time was out of reach, which produced a sense of resignation that also contributed to a lack of motivation to struggle to a faster pace.

A downhill section a few kilometres from the finish got me out of that funk and I was able to finish relatively strongly. I crossed the line in an official time of 1:38:41, which was over a minute beyond my goal time. It was, however, still a personal best for a half-marathon by a couple of minutes.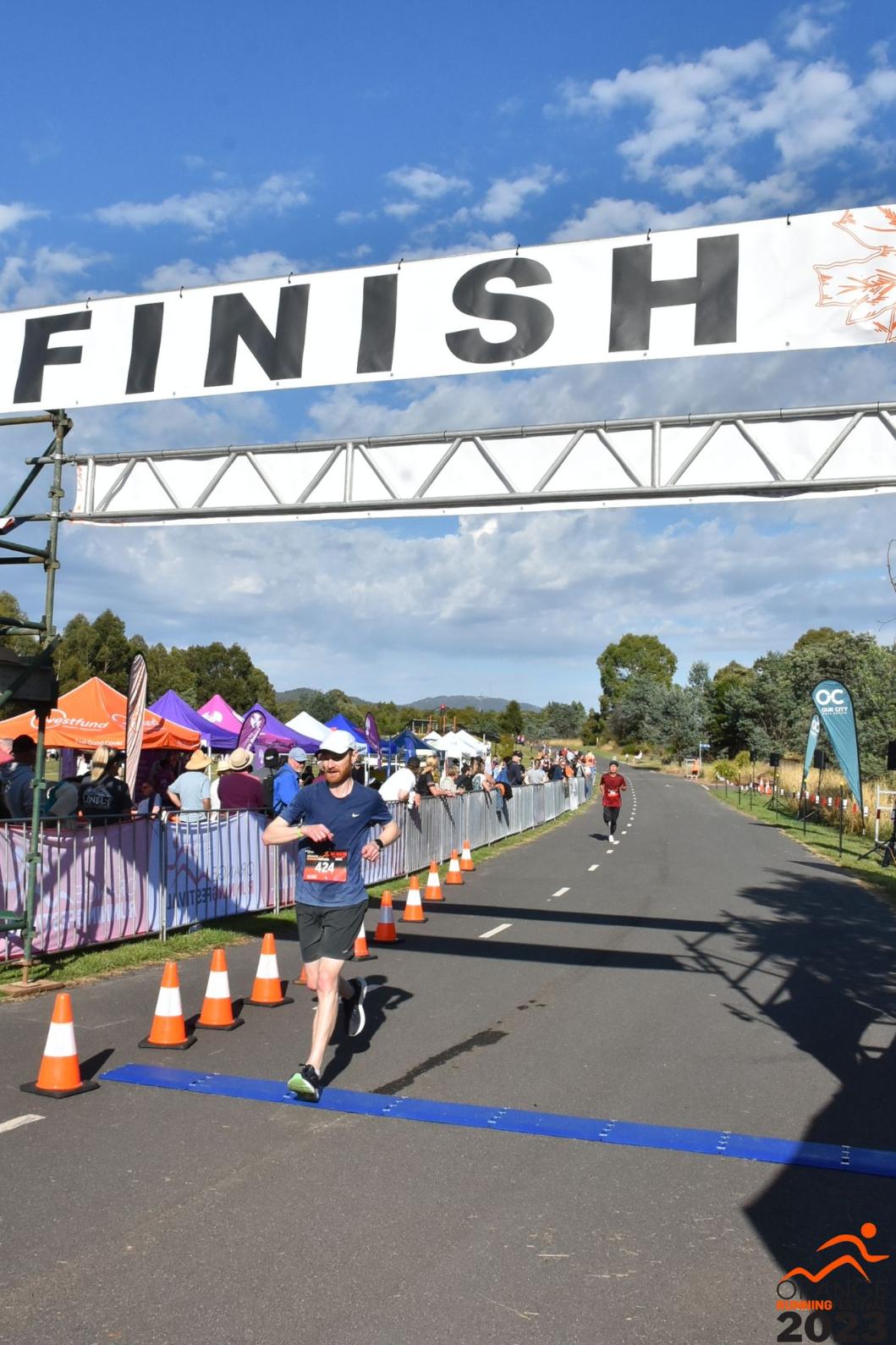 Post-race reflections
Although I was a bit disappointed that I hadn't reached my goal time, I still enjoyed the experience (in hindsight, at least) and felt like I ran a reasonable race. I had particularly enjoyed the training in the lead-up to the race and it was still a personal-best time.
After finishing, I wandered back to my car to collect my esky that I had packed with various food and drink and returned to watch the finishers in the other races. The iced coffee was very welcome, though I was both very hungry and thirsty but also not at all hungry and thirsty—another of the many running paradoxes. It was great to see some very strong performances from some Bathurst runners who I had become aware of in my relatively-short time in the town.
Reflecting on my race, I can identify a few key takeaways and points to keep in mind for the future:
The nutrition strategy of raisins and dates went well, particularly in comparison with gels. However, perhaps I should eat more frequently so that the total intake is higher.
Remember to use a running mantra when in times of struggle. I had one prepared for this race (Alex G's "Gretel" actually), but then forgot about it during the race.
Don't focus too much beforehand on the low-frequency component of the elevation profile—the short-term fluctuations in elevation seem to be much more perceptually salient.
Try not to overly-think about the race in the week prior—keep things pretty normal despite the reduction in volume.
Speaking of the future, my running plans for 2023 will need to change along with my relocation to Melbourne. I enjoyed my running in Bathurst and it had greatly benefited from the coaching services of Wes Gibson of Run Riot. I will fondly remember the circuit around the Macquarie River (parkrun), hilly routes around West Bathurst, laps of George Park, and the long-and-flat route out to Abercrombie.
I will ease back on the volume and frequency of my running as I relocate, but will still use running as an effective way to handle the stress of moving. I will then look forward to exploring new running routes in Melbourne and participating in some new races.